TOP 5: Most anticipated UFC events remaining in 2012
With four months left 2012, Ultimate Fighting Championship is expected to entertain Mixed Martial Arts fans around the world with a number of strong fight cards. The promotion will conclude its 2012 calendar with UFC 155: Junior dos Santos vs. Cain Velasquez II, scheduled to take place in Las Vegas, Nevada, on December 29th.
Next UFC Pay-Per-View will take place on September 1st, featuring the Light Heavyweight title scrap between Jon Jones and Dan Henderson. While there's no doubt about Jones vs. Henderson being "a fight for the ages", I personally feel UFC 150 fight card is not as stacked as other remaining line-ups (unfortunately, cards are subject to change):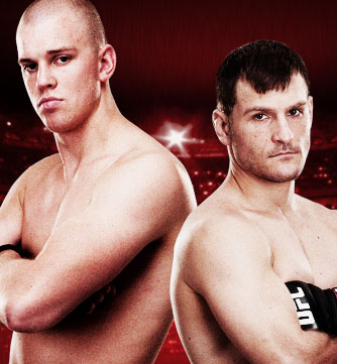 UFC on Fuel TV: England
September 29, 2012 at Capital FM Arena in Nottingham, England
There's no Georges St. Pierre, Jon Jones or Anderson Silva on this card, but UFC on Fuel TV: Struve vs. Miocic is definitely an intriguing event. The main event is a very interesting encounter between two up-and-coming fighters, who will be looking to move up on the Heavyweight ladder. The event is co-headlined by Fight of the Night candidate between Dan Hardy and Amir Sadollah, with top UK stars Brad Pickett, Che Mills, and Paul Sass also competing on the card. Personally, I'm quite interested in John Hathaway vs. John Maguire. Gypsy Jiu-Jitsu is for real, but I'm really curious to see whether Maguire has what it takes to defeat John Hathaway. On the undercard we have Tom "Kong" Watson (former BAMMA Middleweight champ) and Jimi Manuwa (former UCMMA Light Heavyweight champ) making their UFC debuts. I expect both fighters to make prove they belong inside the Octagon.
UFC 153: Brazil vs. USA II
October 13, 2012 at the HSBC Arena in Rio de Janeiro, Brazil
Previous Brazil vs. USA card took place back in August, 2010, when Chael Sonnen and Anderson Silva had their first date inside the Octagon. While UFC 117 had only main card bouts matched-up as USA vs. Brazil, this time we have 11 out of 12 fights participating in this so-called Western Hemisphere derby. Aldo vs. Koch is the main event, but what about those fights – Rampage vs. Teixeira, Belfort vs. Belcher, E. Silva vs. Fitch, and Maia vs. Story. Incredible. As far as undercard goes, we have Gabriel Gonzaga making his Octagon return against powerhouse heavyweight Geronimo dos Santos, and the BJJ wizard Christiano Marcello fighting Reza Madadi. UFC 153 could well be one of the best, if not the best card of the year.
UFC 154: GSP Returns
November 17, 2012 at the Bell Centre in Montreal, Quebec, Canada
George St. Pierre is expected to make his return to the Octagon at UFC 155, facing the Interim UFC Welterweight champ Carlos Condit for the undisputed title. With St. Pierre on the card, UFC 155 will receive more than enough media spotlight in what could become one of the biggest UFC events in 2012. Also on the card, Brendan Schaub takes on Lavar Johnson in a 'who connects first' contest, while the potential number one contender scrap between Matin Kampmann and Johny Hendricks serves as co-main event.
UFC on FOX 5: Nate Diaz show
December 8, 2012
If I'm not mistaken, this will be the fourth time Nate Diaz headlines a LIVE TV event. Cesar Gracie product will have his shot at Ben Henderson's UFC Lightweight title, with sights on winning his first title after sixteen UFC bouts. Rest of the main card bouts are just as big – Alexander Gustafsson fights Mauricio Rua in #1 205lbs contender bout, and BJ Penn returns from retirement against Rory MacDonald. This is so far the biggest UFC card on FOX, with a good possibility of producing three Fight of the Night bonuses.
UFC 155: Uncle Chael goes up North
December 29, 2012 in Las Vegas, Nevada
UFC's NYE cards are traditionally stacked from top to bottom. Last year's NYE card was headlined by the heavyweight blockbuster between Brock Lesnar and Alistair Overeem. This time around, we have Cain Velasquez rematching Junior dos Santos for the UFC Heavyweight title, while Chael Sonnen makes his 205 debut in the UFC against Forrest Griffin. Sonnen vs. Griffin would certainly be the co-main event of this card, but UFC 155 is expected to feature other high-profile MMA bouts, as the Ultimate Fighting Championship would love to make a positive exclamation point after injury-struck 2012.